Whether you love it, or love to hate it, The Bachelorette is one of the most successful reality series on TV. But perhaps the only thing more entertaining than the on-screen drama is the social media drama that seems to follow contestants. As season 12 of The Bachelorette winds down, we thought it would be interesting to reflect back on lessons learned. No, not love lessons, but rather lessons you can use to build your social media following.
Promotion is everything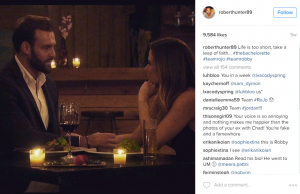 Brands use social media to promote their goods and services. Bachelorette contestants use social media to promote themselves. Robby Hayes is a perfect example. The Florida native has made it to tonight's finale, in which he will either propose to JoJo or be left heartbroken in Thailand. Robby's motives have been called into question multiple times this season. Check out his Instagram and you'll understand why. He broke up with a long-term girlfriend just before learning he'd be a contestant on the show, he has tried his hand at modeling, and he's constantly working on improving his image. He's even been rumored to have paid others to promote his brand using #TeamRoJo. And while we certainly don't recommend being quite as smarmy as Robby, his tactics certainly keep people talking.
Give the people what they want – content
Providing your audience with newsworthy and authentic content is important in today's social media-crazed world. No Bachelorette contestant has done that better than resident villain Chad Johnson. Despite being kicked off early in the season, Chad's bad boy persona has grown immensely on his Twitter and Instagram accounts. He has dated his fellow co-stars exes, he's bought the domain names of other contestants and he's created hashtags for his ridiculous insights (#Chadisms and #BadChad). His content might be crazy, but it's exactly what people expect from the memorable contestant, and he provides it often.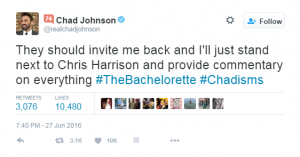 Say yes to engagement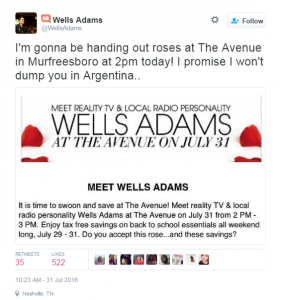 No, not the engagement we expect on tonight's finale—the social media engagement! Responding to and interacting with followers is important to building a brand. Making them feel like part of a community is essential to growing that community. We can think of no two contestants that have been better at interacting with their fans than Wells Adams and James Taylor. Both adorable underdogs of the season utilize their social media to engage their followers. Whether it's Wells' drunken Snapchat stories as he watches The Bachelorette on Monday nights, or James Taylor's hometown concert contest, they reach out to fans like no other. Any brand would do well to borrow from their tactics when connecting with followers.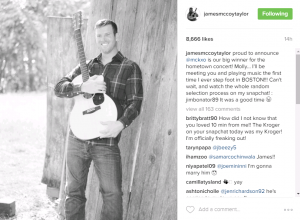 We know we can't wait to see who is "the one" for JoJo on tonight's finale —and we can't wait to put some of these social media strategies to the test.