Pokémon Go is less than a month old, and there's almost no chance you haven't heard about it.
The game became an overnight sensation, quickly topping Twitter's daily users and grabbing at Facebook's engagement. Some millennials have been calling it their "second childhood."
Brands and companies haven't been far behind, using the game as a point to launch themselves into the conversation. And it's not surprising. The game is loaded with lessons for the PR and marketing worlds. Here are a few we see:
Don't underestimate the power of pop culture.
We saw it with the dress. We're seeing it with Pokémon Go now. We just can't always predict what will capture the attention of the nation. If brands want to make the most of the opportunity, it's important to act and act fast.
Many business have been doing just that with Pokémon Go, looking to see if they are a spot gamers will want to visit or taking matters into their own hands and setting up lures to get more Pokémon to come to them. There's even a startup, LureDeals, dedicated to attracting gamers to businesses. Knowledge on pop culture phenomena is power, and in this case, money.
Have a little fun on social media.
Pokémon Go is a game, after all, and it should be fun. Social media is the perfect place to take advantage of that. Many brands have put up clever posts that tie into the game and promote their services or products.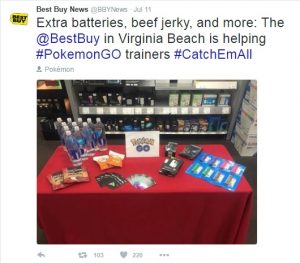 Even police departments are using Pokémon Go humor to talk about safety issues.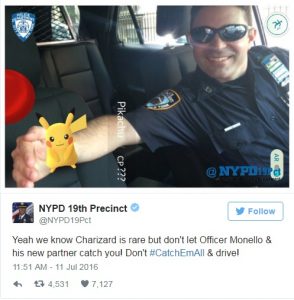 See more examples at PR Week.
Don't try to force it.
But while social media can be a fun place to tap into the craze, media pitches aren't always the best way to do it. If your company has news related to the trend, sure. But don't force it. Grasping at straws can have the opposite effect, angering journalists.
Know that new technology won't be perfect at first.
You've probably already heard some of the concerns about Pokémon Go. Gamers have caused accidents driving while hunting for Pokémon. Girlfriends have broken up with boyfriends. People have targeted and robbed players.
There are probably other issues that will arise, as well. But that doesn't mean you can't use the game to help your business. All new technologies have some unexpected bugs. Just keep up to date with the news and use your judgement.
Be ready for more.
Pokémon Go is the first taste of what augmented reality can do in the gaming world, but with its meteoric rise, it won't be the last. Brands and companies should be ready to use the lessons learned from Pokémon Go in the future. If the game proves anything, it's that marketing and PR strategies are always evolving.