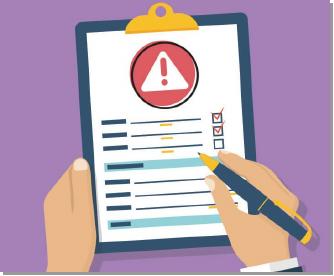 When you hear "crisis communications," your first reaction might be "It won't happen to me." After all, you're just a business—not the target of something you'd see on the news.
And you're right—mostly. While you probably won't suffer some kind of incident that will make major headlines, the rise of social media has made it much more likely that your business will face some kind of crisis situation.
Because there is a possibility, you need to have a crisis communications plan in place now.
What kinds of crises are we talking about?
There are different degrees and types of "crises."
Any one of them could have an enormous impact your business. Indeed, any of these types of crises could happen to you and they don't have to make headlines to have a meaningful, negative, effect on your business. Here are some examples of impactful, but often unseen, kinds of crises that affect businesses with more regularity than you might suspect.
• Negative actions by a former employee. These can range from someone sending harmful emails to your key client database to someone going to the local media and spreading negative misinformation, creating a false image of your organization.
• Criminal activity involving an employee. What would you do if you discovered that one of your employees had been arrested for embezzling organizational funds? Or had been arrested for sexual abuse against children? How would you respond if an ex-spouse showed up at your business and took threatening action against their ex?
• Negative spotlight on your business category. How well prepared are you to respond to client or media inquiries about a sharp sales downturn in your product or service category? What about some kind of inquiry about the safety or reliability of products or services in your particular category?
It doesn't have to be your fault to call attention to your business. Media often call on anyone in a particular industry to add context to a story.
Need specific examples? How about the safety of Johnson & Johnson's baby powder? Or the recurrence of E. coli or salmonella in Chipotle's restaurants? If you market a product related to parents or operate a restaurant, there's a good possibility you can get caught in the news fallout, even if it is someone else's problem.
Need examples closer to home? How about the shooting at Orlando's Pulse nightclub? Or the disappearance of the 2-year old who was attacked by an alligator at Walt Disney World? What about the impact of hurricanes on Central Florida and their disruption of normal working cycles on businesses?
How to handle a public relations crisis
Thanks to the interrelationship of social media and mainstream media, an incident can morph into a full-blown crisis in just a few hours.
If you have a well-constructed crisis management strategy, backed-up by a regularly-conducted rehearsal program to test it out, you are in position to deal with the crisis.
Such a plan will enable to you quickly interact with your clients, the leaders and influencers in your category, media, and any other audiences that are important to you. Even a short, basic plan identifying your key audiences (along with their contact information) will position you to address an unseen crisis in a businesslike, responsible manner.
How do you create a crisis plan?
You can create your own plan.
Or you can call on the seasoned professionals at Wellons Communications to create a plan for you.
Our team members have served both sides of crisis management (the media side and the client side) and have first-hand knowledge of how effective a good plan can be. They have also seen the disastrous results that inevitably occur when a business lacks crisis planning.
We will be happy to provide you specific examples of the kinds of crises we have addressed in the past. More importantly, we will listen to you, learn about your business and better understand what kind of readiness you need to have to address a crisis situation.
Let's discuss how we can ready your business to be prepared to address a crisis situation effectively and professionally—and before it ever happens.
Call us (407-339-0879) or email us at will@wellonscommunications.com to start on your crisis communications planning.