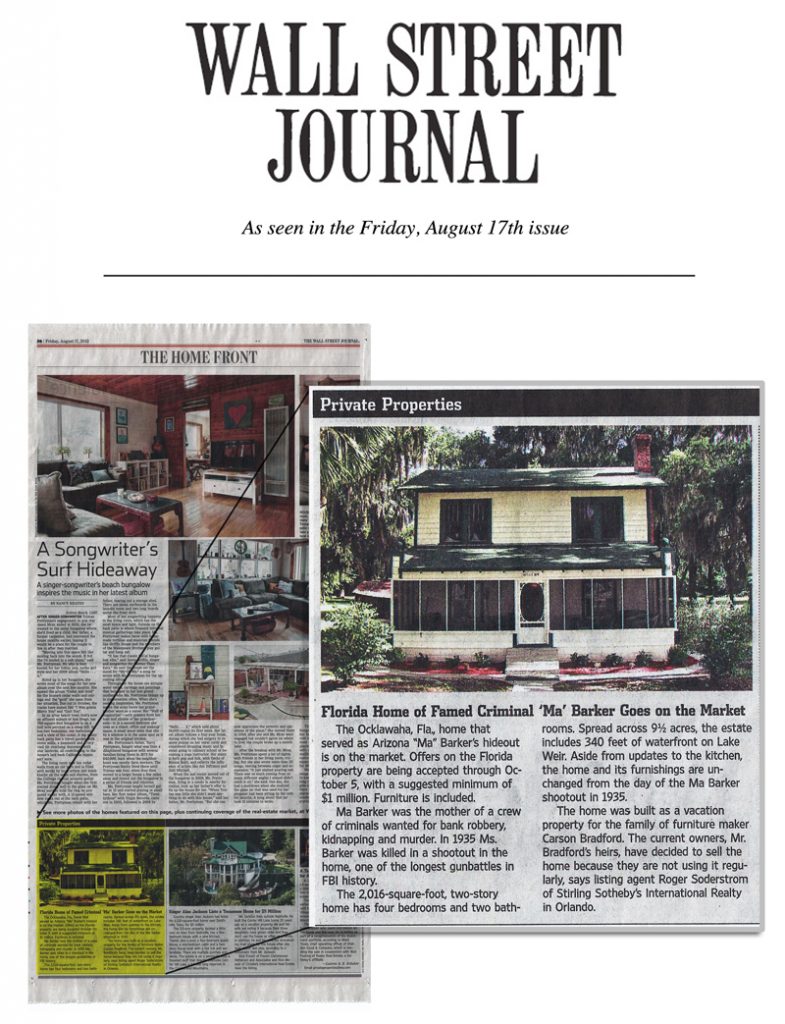 We had the pleasure of providing publicity and media relations support for the listing of the renowned Ma Barker house.
The story was launched with an online exclusive in the Wall Street Journal, followed by a front page story in the Orlando Sentinel, followed by a story from Reuters news service. The ensuing media coverage led to the story appearing all over the world, in all types of publications. Media hits included CNN, the front page of Yahoo, CNBC, real estate trades and even overseas media like the Daily Mail.
The number of people who read the Ma Barker House story is well into the millions and growing.
When you have a great story to tell, it's worth knowing seasoned public relations people who have worked in the media. Our firm carefully crafted the message and pitched the story to key national and local media that would give us the best chance for widespread pickup.
Cynics might say that anybody handling PR for a renowned gangster hideout house will get coverage. However, people who've worked in the media and are experienced in public relations understand that proper placement can make the difference between a few hits and global coverage.
Not everyone has a Ma Barker story to tell. The truth is, you don't have to be Ma Barker to make public relations work effectively for you. Our agency uses the same research-based approach for each project. Whether announcing a new business, a promotion, a restaurant opening, a community event or a new product, we spend time finding the right person to pitch the story to and craft the story in the right manner. At the end of the day, that messaging becomes the cornerstone for much of your media coverage. We use the same approach whether working with media in Central Florida or media across North America.
We can never dictate what members of the media will cover – but we can strive to serve up news of all kinds in the most appropriate manner for the audience we are trying to reach. The Ma Barker house is our latest shining example of the success we can achieve with a single press release followed by experienced media pitching and follow up.
Tell us your story – we can likely find a home for it too. To learn more about project assignments with Wellons Communications, please feel free to contact us at mystory@wellonscommunications.com or call 407.339.0879.