Take a look at almost every headline in today's news. Terrorist attacks, investigations, tweetstorm responses – bad news (or the threat of bad news) is the subject of almost every headline.
In the midst of negativity, we at Wellons Communications have adopted an approach that positions our clients in a positive light and allows their message to battle its way though the clutter.
If you have already looked at the accompanying cartoon before you started reading, then you have personally experienced a strategic approach that is working wonders for our clients.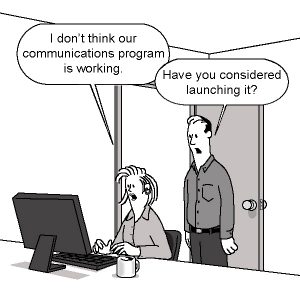 Our approach is humor. It's an approach that gives your audience a time out – a reason to smile or laugh and break away from all the gloomy news that currently dominates the headlines.
Combine humor with visuals
Our use of humor is centered on a totally serious objective: conveying our client's message in a way that allows that message to be noticed.
We strengthen our use of humor with eye-catching visuals.
We don't always rely on the usual visuals like photos. Instead, we are frequently use cartoons to provide a unique point of view for our clients.
Each of the cartoons we produce is original and carefully prepared to serve as a platform for our client's message.
The approach is affordable and in today's grim-faced news environment, it is effective because humor contrasts to the negativity that seemingly dominates media attention.
Respect the power of cartoons to project a thought or message
Once you've looked at a well-crafted cartoon backed up by a clever caption, you can't un-ring the bell. Your message has been projected in memorable fashion.
In an overloaded world of e-mails, Facebook postings and tweets, cartoons stand out. And that's precisely why the cartoons we frequently use for our clients succeed.
Cartoons exemplify the creative approach we use for clients
The use of cartoon visuals and captions is not necessarily a new approach. However, in today's overheated communications environment, it's an approach that is, by its nature, different.
It's a creative use of an old technique. And it is a technique that, when properly employed, stands apart from everything else.
If you are looking for affordable, creative, and effective communications programs that deliver results, give me a call at 407-339-0879 or email me at will@wellonscommunications.com.
I'll respond at once (although not with a cartoon) with some preliminary thoughts that can kick-start or re-invigorate your marketing program. And that's no laughing matter.