When you step back and examine what you say to potential customers, how consistent is your message?
Does your message say the same thing every time?
Or does it introduce a new thought to an audience that requires some time to absorb?
The wisdom of The Rule of Seven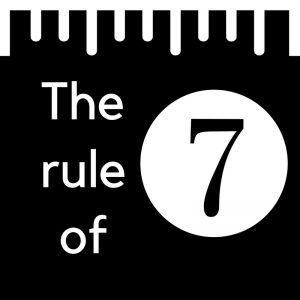 One of the tenants to which we adhere at Wellons Communication is The Rule of Seven.
The Rule of Seven says you need seven points of contact with your audience to convey your message.
Why does it take seven times to get your message across?
Because in today's communications-centric world, people are overloaded with information. Emails, tweets, cable TV, apps, newspapers, and magazines…the list of the different media that impact consumers is long. The list of information they project on a daily basis is even longer.
Because there are so many messages impacting us daily, saying the same thing over and over again is critical to get one's point across.
Fighting message fatigue
One of the characteristics aggressive marketers exhibit is that they are often the first to grow weary of message consistency. The general feeling often is "We've already told 'em that," followed by the launch of a new and different message.
The reality is that potential customers, as well as current customers, may not have seen your original communication — or are so busy dealing with their own business that your message has not had time to sink in.
We believe that consistency is key to effectively conveying whatever it is you want your audience to know about you. And that means sticking with a sound strategy and message without growing weary of saying it over and over again.
What's the one thing you want your audience to know about you?
One of the benefits of stating — and repeating — your core message is that you take ownership of your communications.
That notion is comparable to the oft used "elevator speech" concept: if you have 30 seconds to tell your story, what would you say?
Drilling down to your core message, and re-stating it at every opportunity, helps you meet the Rule of Seven and reinforce the key principle that makes your business unique and even more importantly, valuable to your potential clients.
Fight the urge to keep changing the message
Marketers are smart people who have a lot of ideas and are eager to try them out to see if they can improve marketing results. That intelligence, however, can be a detriment if messages keep changing constantly.
Customers and potential customers don't require a hit on the head to understand what you are saying. What they do require is seeing and hearing the same thing on a regular, consistent basis. It's a philosophy that effective advertisers have used for more than a century and one that is adaptable, albeit in a different fashion, in publicity and public relations.
We encourage staying the course and communicating in a regular, organized, and consistent manner. It's easier on your audiences to remember what you are saying and when they need you, easier to remember who to call.
If you are in need of well-crafted, effective communications that are results-oriented, call me at 407-339-0879 or email me at will@wellonscommunications.com.
Like the communications programs we advocate, we will consistently answer the call, always in the same fashion, and then look for new and innovative approaches that will help stretch your marketing dollar and improve results.