In today's society, it's getting easier and easier to reach for our phones and tablets to read the latest news story, article or book. Businesses and classrooms are turning away from mail-outs and textbooks in favor of marketing emails and ebooks. But what does that mean for the way we take in information?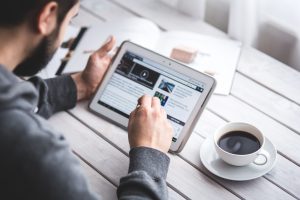 Apparently, a lot. According to The Washington Post, your brain doesn't comprehend the information you read online the same way it does in print. Digital screens seem to cause people to focus on the information they are reading at the time instead of how it fits in a broader context.
Researchers from Dartmouth College and Carnegie Mellon came up with different experiments that could compare the effects of reading on different platforms. In one experiment, a group of participants read a short story online and another group read a printout of the story. A pop quiz was given to the participants once they were done reading, and it revealed that the physical-copy readers scored better on questions requiring participants to make inferences, while digital-copy readers scored better on concrete questions about the text.
According to the researchers, the results of the experiments show that our reading comprehension is changing as it is becoming more typical to read information on a digital platform. Our thought processes may slowly be evolving so that we will have to make an effort to look at the bigger picture.
So what does that mean for PR? Even though communications professionals will likely still make use of digital tools, the study shows the key is to try and make digital audiences think more abstractly. When writing an article that is going to be consumed via screen, try to challenge yourself to put in context which will help readers think critically along with the facts of the story.