Around this time of the year, we are bombarded with reminders to prepare New Year's resolutions.
Many of us dutifully scribble down five or six resolutions, and by Jan. 3, have already buried them among the papers on our desks and totally forgotten about them.
According to British psychologist, Richard Wiseman, more than 80 percent of New Year's resolutions fail. Wiseman's explanation is very practical. He points out that we have considerably more things to worry about than New Year's resolutions.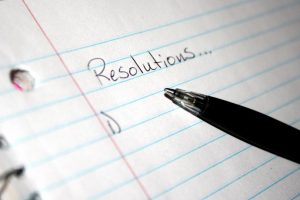 For 2017, consider keeping it simple. Make only one New Year's resolution.
While you are at it, redefine how you view your resolution. And stick with it.
If you define your New Year's resolution as an objective, it takes on an entirely new meaning. All of a sudden, you have a tangible goal that, in the end, is measurable.
Our single New Year's 2017 resolution is brutally honest
At Wellons Communications, our only resolution is focused on where it counts: our clients. Our resolution is:
Generate measurable results for our clients.
Results are the only reason our clients retain us.
Our clients expect results. It is our job to deliver them.
That meshes with our sincere belief that our clients come first. Without clients, we do not exist. And without results, we do not have clients.
We strive to not only produce results, but quantifiable results. It's one thing to generate positive noise about products and services. But we want that noise to work. And measurement is how we know that the results are working.
We aim is to generate results to either sell things or create an environment where it easier for our clients to sell things.
Whether it's widgets or something more abstract, like ideas, notions, and concepts, selling things is, in fact, the only reason any of us are in business.
Best wishes for a successful 2017
With that underlying philosophy, our resolution makes sense (at least to us…and probably you, too).
However, wishing for success or even jotting down a New Year's resolution is not going to help you sell more.
Successful selling requires recognition of consumer needs and wants, a carefully thought out plan, sufficient budget, and resources that will help you execute your plan.
And when it comes to the right resources, think of Wellons Communications. Because we have the same objective you do: create success through increasing sales.
Now that 2017 is near, find out more about what we can bring to the table. Pick up the phone and call me at 407-339-0879 or email me at will@wellonscommunications.com and ask "How can you help us improve our business in the upcoming year?"
Happy New Year and best wishes for a prosperous 2017.