Sometimes you make news and don't even know it. Other times, you have a big story to tell, but you fail to capitalize on it.
Companies that generate positive publicity are often the first to respond to opportunities and take advantage of them. They move with a sense of urgency and find a way to cut through the approval process to put their message ahead of others competing for recognition.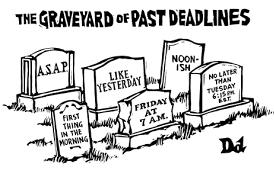 Journalists, no matter what media they serve (TV, online, print), work against deadlines — and that means those who recognize deadlines and respond to them as quickly as possible are often those chosen to be quoted or recognized, particularly in fast-breaking news situations.
Here's the formula: Editorial need + Content = Publicity
Editors have an insatiable need for content. The journalists who serve the editors (and ultimately, their audience) are required to create that content — and deliver it in time to meet demanding editorial deadlines.
Publicity-hungry companies, however, often drag their heels in making decisions about getting ahead of the news or responding to it. They often bring too many people into the decision-making process which slows up the approval process and causes them to issue news after it has already broken or moved out of the news cycle.
Jack be nimble. Jack be quick
Take a close look within your organization and identify who can (and should) make decisions on issuing news information.
The list should be short (the fewer the better) and limited to those who can make on-the-spot decisions while still ensuring whatever you issue is accurate and meets the criteria of what editors or journalists are seeking.
Strive for decisions that allow your publicist or PR team to get the news out the door and to the media. Drafts of press releases, quotes, plans and programs that sit in inboxes don't have a chance until the information is actually distributed. And if that information is issued after a deadline, fuhgeddaboudit, as our friends in Manhattan would say.
The companies who make the news first are often those who reacted quickly or anticipated a journalistic need.
Be a soothsayer. Identify — or announce — a trend.
Sometimes news exists where you least expect it — like in research about your industry or observations from your staff.
If you can recognize a trend, you can own the trend. But you have to tell people about that trend before they can recognize it.
If you see, for example, that contract managers are overwhelmed by data, resulting in missing contract expiration dates or the information in the fine print, say it. And back it up with data that makes your observation valid.
Even if the information is old hat to you, it may be brand new to a journalist, particularly if that journalist is new to your beat.
Editors love to "discover" trends and reporters love fleshing out what might be totally new information for their readers and viewers.
Does all this guarantee news coverage?
Nope.
When you compete for news, you are up against more than your competitors.
You are battling for share of mind and space against everything else in the world. Presidential tweets. Kim Jong Un's latest missile test. Taylor Swift's hairstyle. Tropical depressions in the Caribbean. Solar eclipses. The latest diet trend.
Your news has to battle its way through a maze that is constantly shifting, with stories moving up and down in relevance.
News shape-shifting is the primary reason no one can guarantee publicity.
You must be willing to release information on time, with the same sense of urgency editors and journalists live by. You must provide information that makes sense for each media's audience. You must put your news into a competitive posture…and the simple act of getting it out there is the first step. You news cannot make news while residing an inbox.
We work to serve our clients…and the media in which they want to appear.
Our team has experienced how news teams function…from both sides of the desk. We know how challenging news-gathering can be. And we know how challenging getting news out to editors and reporters can be.
If you want to get more news coverage, particularly coverage that defines you as a recognized leader in your chosen field, call on us.
We work quickly, effectively, and with the kind of savvy that comes from working in a newsroom.
Find out more. Call me at 407-339-0879 or email me at will@wellonscommunications.com.