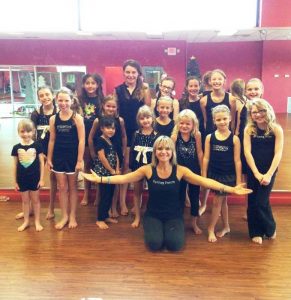 Cathy Mae Cavanaugh is living her dream.
Ever since she was a teenager putting herself through college, Cavanaugh has been an instructor at Turning Pointe – A Dance Studio.
Over the years, Cavanaugh has taught more than 5,000 students to dance, or to dance much better. Her STAR teams have won countless awards and competitions. In the process of learning to dance – something magical happens – the students (and their parents) become members of the Turning Pointe family.
Working her way up the ranks at Turning Pointe, Cathy Mae knew that one day she wanted to own her own studio. Cavanaugh has always known more about tap, Jazz and ballet than being an entrepreneur.  Her life is dance, but her dream is rooted in running a business. Wellons Communications is proud to help businesses like Turning Pointe to thrive and grow.
In the past year, she purchased Turning Pointe from her former boss. She knew she would have to work tirelessly to help hundreds of children (and often their parents, family and friends) learn to be excellent dancers.
This fall, Cavanaugh's dream will fully take shape. She is moving Turning Pointe – A Dance Studio to a new location in the Springs Plaza, off of State Road 434 (SR434) in Longwood. Cavanaugh will have the opportunity to put her stamp completely on the business, including installing just the right type of floors for any dance or exercise instruction.
The new studio will serve dancers of all ages from toddler to adult. Busy parents will likely enjoy that they can shop at Publix, or have a great meal in the Plaza while their child has lessons.
"This past year has been a whirlwind! We are so excited to be moving and building out a brand new space.'' Cavanaugh said.
"The next chapter of Turning Pointe is going to be the most exciting yet!''
Congratulations to Turning Point and Miss Cathy Mae. She has the honor of both shaping lives and living her dream.
To learn more about Turning Pointe – A Dance studio, go to www.turningpointedance.com  or call 407.862.5500.