Now is the time when prognosticators pull out the crystal ball and give their best shot at predicting the future—and we at Wellons Communications are no different.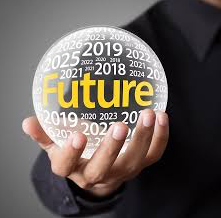 We enjoy looking ahead, but what's more, we feel it is our duty to visualize what changes in public relations are coming so our clients can prepare for how these changes may impact their businesses.
Of course, no forecast of the future is ever perfect. Nevertheless, here's what we see for public relations in 2018:
Content marketing will begin to "shape shift"
Consumers are reeling from the amount of information they are receiving. Because of that, in 2018, marketers will start to make adjustments to both the amount of content they throw at their customers and how they deliver content. Be prepared to see more short videos and billboard-like messages that focus on brand names and benefits.
Simplicity will make a comeback
The avalanche of content aimed at consumers, combined with the onset of new products and services technology is spawning, will be confusing to many consumers, particularly older Americans (i.e. the Baby Boomers and Generation X).
Products and services that clearly and simply explain what they do and how they benefit consumers will succeed.  Marketers whose "pitch" is rooted in techno-babble will become lost a fog of uncertainty, creating an opportunity for those who understand the confusion of customers overloaded by a mountain of information that multiplies daily.
The accuracy of content on social media will attract some skepticism
Social media will continue to be a powerful influencer of how people respond to society and how they view what is happening. With the rise of inaccurate information ("fake news") on social media, however, consumers might think twice about the accuracy of content that floats across their screens.
Generation Z will begin to overtake Millennials as a prime marketing target
Generation Z, those young adults who were 9 years old when Facebook was introduced, are now 22. They will be entering the workforce in significant numbers. Marketers, of course, will flock to Generation Z to influence their brand preferences and buying habits.
This creates another opportunity. Marketers whose products and services remain appropriate for Baby Boomers and Generation X, who may be overlooked in the rush to capture Generation Z, can retain and grow their relationships with these established, less technically savvy cohorts.
Continued economic growth will hit some bumps in the road
The extraordinary rise in the Dow Jones averages during 2017 cannot last forever. But, like past market rises, no one wants to think about a "correction" or even a decline in the market. Some of the steam will eventually run out of the extraordinary market run-up we have all enjoyed, but this leveling out may create an over-reaction in the opposite direction. That means companies need to make hay while the sun shines—and that your reputation is more important than ever.
So why are these predictions important to you?
We visualize what we think is going to happen for two reasons:
To capitalize on opportunities for our customers.
To protect the financial welfare of our clients.
That's why we try to accurately peer into and predict the future of the industry—so we can put it to work for you.
Let me know what kinds of predictions you have for 2018. Better yet, contact us at 407-339-0879, will@wellonscommunications.com and see how we can help you capitalize on what you believe will be happening.
Happy New Year!