A dedicated group of women tackles a tremendous task year after year for a cause they adore. Along the way they have made the Orlando Museum of Art the place to go to kick off the holiday season.
The Council of 101, a volunteer fundraising arm of the museum, hosts the Festival of Trees annually each November.  For nearly three decades, the group has decked the halls of the art museum with lavishly trimmed trees, exquisite gingerbread homes and fanciful holiday wreaths. It is sight to behold!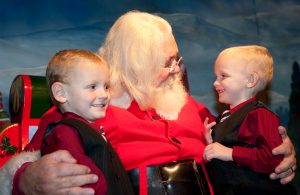 The hard work of the council – as well as countless number of designers that make the trees and holiday goodies – have raised millions to support the operation of the museum and help the Loch Haven Park cultural center thrive.
The Festival runs through Sunday, November 24. Youngsters can visit Santa, while mom and dad can get inspiration for their holiday decorating.  Better yet, you can buy a tree and have it delivered right to your home!
The Festival got off to a rousing start with Orlando Mayor Buddy Dyer lighting the signature tree.  See the fun for yourself and know you are doing your part to support the arts in Orlando here: http://youtu.be/OZm9XOsOaaI
For more information about Festival of Trees, please visit: http://www.omart.org/events/festival-trees-glitters