In the history of communications, there has never been so much competition for the attention of consumers.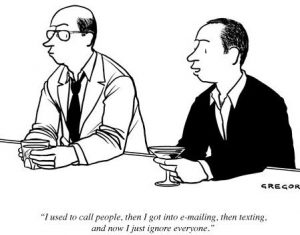 The onset of the Internet, along with the explosion of e-mail, tweets, text messages, along with new ways to connect, like Skype and GoToMeeting, has turned basic communications into the Wild West.
There are so many messages…and so little time to listen to them, let alone contemplate what the messages mean.
The net result? Communications overload, which places a premium on getting your message right the first time, every time.
Author Jocelyn K. Glei, on 99U, an online magazine for creative types, addresses the communications overload in detail in a thoughtful article:
http://99u.com/articles/7002/stop-the-insanity-how-to-crush-communication-overload
In particular, Ms. Glei thoughtfully addresses organizing communications and establishing protocols that rank what's important…and what's not.
Public relations communications should help you sell
At Wellons Communications, our service is public relations, which we interpret as helping you sell your product or service.
Sales begin with clear, simple statements that identify the needs of your target audience and how you can help them resolve that need.
Because of communications overload, your target audience has less time than ever to absorb what you are saying. You owe it to them (and yourself) to present your thoughts clearly, concisely, and consistently.
Clear, simple, direct communications will cut through the clutter. They make it easy for your target to understand that you recognize their needs and why you are the best resource for resolving them.
We recognize that the only reason you want public relations assistance is to help you sell something. In that same spirit, we are knowledgeable, experienced, and well-prepared to help you create effective ways and means of cutting through the "white noise" that exists in today's marketing environment.
Give me a call at 407-339-0879 or e-mail me at will@wellonscommunications.com and let's talk about how we can simplify your communications and make it easier for your marketing to work harder on your behalf.