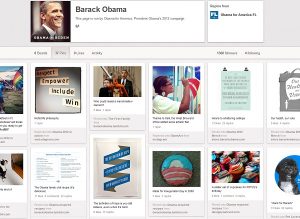 Pinterest is the newest social media craze sweeping the nation, with more than 11.7 million (and counting!) users since February creating pinboards to share images, videos and other objects of inspiration. As of today, even Barack Obama has an active account on the site, which he uses to share a family chili recipe, fan-created "ObamArt" and photos from political rallies.
According to Ignite research, the majority of Pinterest users are women between the ages of 25 and 34 with an annual household income of $25,000 to $75,000. However, Pinners aren't just people. Businesses such as Nordstrom, Whole Foods and ModCloth have been flocking to the website in hopes of capturing the attention of this growing base of users.
If you are a company, Pinterest is especially attractive because the site helps to build word-of-mouth recommendations between users, which are the biggest drive of consumer purchases, said Geoffrey Colon, a vice president focusing on digital strategies at advertising agency Ogilvy & Mather.
"This means that there is an endless opportunity for your brand and its products to be seen by Pinterest's 11.7 million unique monthly users as endorsements from friends in the form of repins," he said at a recent Ogilvy presentation.
However, before you too decide to jump on the bandwagon and start pining for those Pinners, first a word of advice.  Pinterest works best for highlighting visual content, so you must be able to showcase your brand and share your story through images. This works easily for restaurants, magazines, interior design studios and apparel companies. A picture of vintage décor or a hand-crafted cupcake will go a lot farther and garner more Pins than a word-heaving statement like a press release.  Also a word of warning: post original content, or at least be wary when re-pining. Pinterest has recently tightened its copyright rules to protect itself against lawsuits, but that doesn't extend to its users, so attribution for anything on your Pinboard is an absolute MUST.
Do you use Pinterest? If so, what do you post on your pinboard? Feel free to share your thoughts by leaving a comment on our Facebook page.