With 2016 rapidly running out of days, it's that time of year when one starts asking "How well is my business doing?" and "What kinds of changes should I be considering?"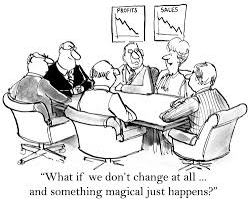 You may want to start by asking yourself these tough questions:
• Am I retaining my customer base?
• Am I attracting new business?
• What customers have I lost? Why?
• Am I meeting my financial goals? Why? Or why not?
• What do I need to change for 2017?
Take a close look at that last question—and consider what kinds of changes you might need to make.
If you don't think you need to change anything, think again. Jack Welch, recognized as one of America's great businessmen, espoused the notion "You have to change, preferably before you have to."
You have to change to keep up with the changes.
Nothing in business remains static. New products come. Old products go. New attitudes emerge. Old beliefs drop by the wayside.
Even if you believe everything is going great and you don't need to change anything, consider this: changes outside of your business will necessitate that you make changes to adjust to an ever-changing business environment.
Need some examples? Ask companies like Kodak, Sears, Blockbuster, Pan-Am, and Borders how they fared when they failed to adjust to changing business environments.
Start change by examining your communications strategy.
Change can begin with something as simple as auditing your communications strategy. Ask, and answer, questions like:
• Is my message still relevant to my target audience?
• Am I using the right tools to reach my target audience?
• How does my target audience perceive my message?
• Am I reaching the correct target audience?
• How has my audience changed?
While you are revising your communications strategy, ask yourself one more important question:
Am I using the correct resources to craft and implement my overall communications approach?
That's where we can help. We provide an objective and fresh look at how and what you are communicating and how it might need to change.
Our approach: We don't just look for changes. We look for opportunities.
Our firm lives in a communications-centric world, and we know and understand how to create strategies and execute tactical programs that use the right message to reach the right audience at the right time. We know how to change your communications approach to make a meaningful, positive change in the upcoming year.
Before 2016 runs out, call me at 407-339-0879 or email me at will@wellonscommunications.com. Talk with me about taking a look at your communications approach and how we might be able to help you change for the better.