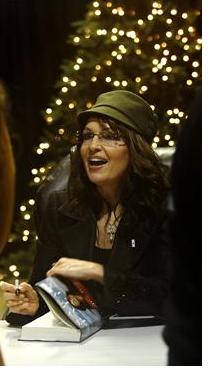 I love Sarah Palin. Actually, let me be clearer – I love Sarah Palin's public relations team.
Her glamour shot center cover of USA Today on Friday, Dec. 11 was stunningly good. For a losing vice-presidential candidate who quit her day job – Palin is as hot as it gets. (And no, I'm not talking about her looks.)
Just ask the millions who have purchased her book. Going Rouge has rocketed to the top of best-seller lists. Palin's publisher, HarperCollins, is on its 13th printing, even though the book hit store shelves Nov. 17.
Palin's public relations team is doing a marvelous job of keeping her in the news and keeping her at the top of minds. Love her or hate her, there is no denying she is getting great advice from her communications team.
Her whirlwind book tour of 33 cities, 25 states and 19,000 miles played to rousing crowds. It silenced some publicists and even top-selling authors who say book tours are dead or a waste of time. Whether riding a bus, or traveling on a private jet to get more business done, Sarah Palin has loyal fans wherever she stops.
Not sure where to send the note of congratulations on the fine PR work. Maybe it is Palin's personal team or the marketing arm at HarperCollins. Either way – Bravo!
From the interview on Oprah before the book launched, to the coverage of the tour in major media across the country, the public relations buzz has been Going Rogue.